I have stopped developing this plugin. I recommend you to use qTranslate X instead.
Writing multilingual content is already hard enough, why make the plugin even more complicated? I created qTranslate to let WordPress have an easy to use interface for managing a multilingual web site.
qTranslate makes creation of multilingual content as easy as working with a single language. Check out some of the features:
One-Click-Switching between the languages – Change the language as easy as switching between Visual and HTML
Professional human or automated machine translation – Reach more visitors and show that you care about them by showing your entries in their native language
No more for adding special characters or strings to seperate your multilingual texts! – qTranslate will handle them almost everywhere for you
No need to edit the plugin file to get your language working! – Use the comfortable and intuitive Configuration Page
Comes with many languages already builtin! – English, German, Simplified Chinese and a lot of others
Add your language in seconds! – Thanks to the simplistic Configuration Page
Multilingual dates out of the box – Translates dates and time for you.
Improved Installation! – No need to manually search and upload Gettext Databases/.mo files anymore
Multilingual Text in Templates without the need to change Gettext Databases/.mo files – Use Language Tags with Gettext!
Choose one of 3 Modes to make your URLs pretty and SEO-friendly. – The everywhere compatible ?lang=en, simple and beautiful /en/foo/ or nice and neat en.yoursite.com
One language per URL – Users and SEO will thank you for not mixing content.
and a lot more…
But why don't you see for yourself if qTranslate is the right thing for you:
Screenshots
This is how the Editor looks like when qTranslate is active: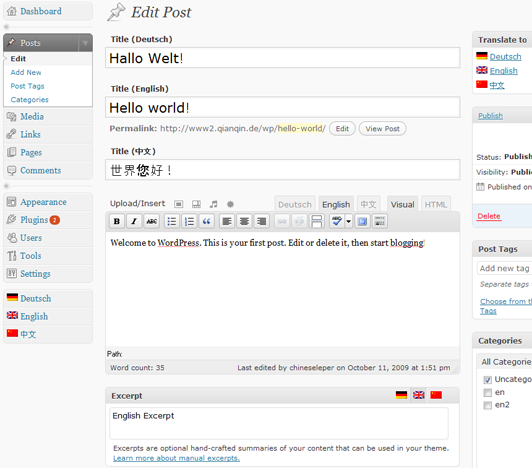 Managing Languages can be this easy: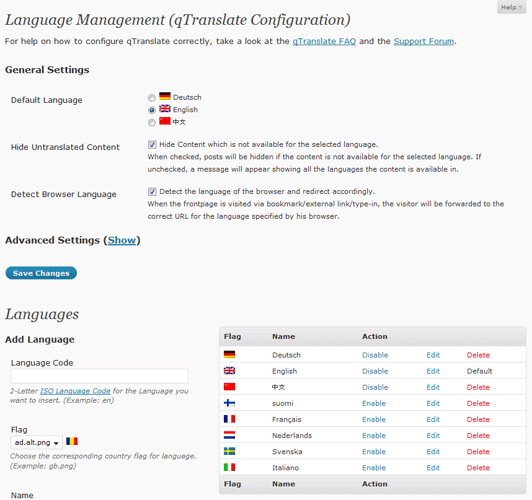 qTranslate Services in action: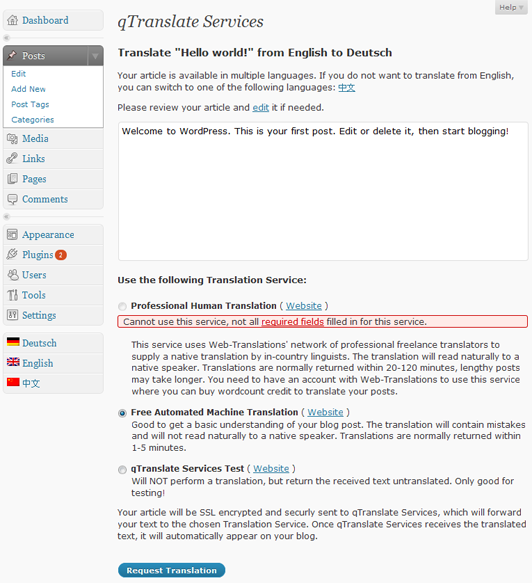 Demo
Just click on one of the flags at the top of this page. qTranslate is actively used and developed by me, as I need it for my blog too. I am always using the latest stable release here.
Still not convinced?
Well, then go try a different language management Plugin for WordPress. I know you'll come back. Here's a list for your convenience: